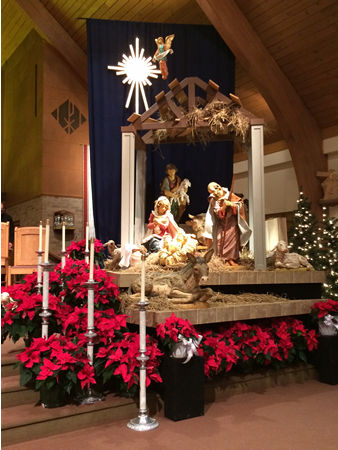 For four weeks of Advent, our hopeful voices sang, "O Come, O Come Emmanuel", and at last, at the glorious birth of our Lord and Savior, we joyfully proclaim, "Emmanuel, God is With Us! Luke's Gospel says it beautifully "I am bringing you good news of great joy for all the people. For today in the city of David a Savior has been born for you who is Christ the Lord."(Lk.2:11) We have all been surrounded with the joy and light which the birth of Jesus brings into the world!
 At this great time of joy and thanksgiving, I along with Fr. Henry would like to send our personal gratitude to each of you and your families for being a part of our faith-filled community here at St. Valentine. We would also like to Thank You for your loyal and generous cooperation during the year and for giving so freely of your time, talent and treasure. May the beauty, peace and joy of this most blessed season envelop you all with the infinite love of God, and the wonder of the birth of His only Son, our Savior and brother, Jesus.
 May our loving God bless you and your loved ones with a joyful grace-filled Christmas, and May the gift of God's love come alive in your heart this Christmas, and throughout the New Year 2017.  
God Bless You All,
 Fr. Socorro Fernandes, SAC
Fr. Henry Rebello, SAC & St. Valentine Staff
---
Dear St. Valentine Parishioners,
 While preparing our hearts for the miracle of Christmas the St. Valentine School students have been learning that Jesus brings us Joy. We have learned together that being disciples of Jesus means:
 J– Jesus first
O– others next
Y– Yourself last
 For children remembering to think of others before yourself is a very hard task indeed! We are proud of the way our children treat each other daily, of the kind words they use with each other, and with the way they apologize for doing wrong to others, and forgive others when they have been wronged. We have focused together on Jesus as the reason for the season. Teachers have been able to use the JOY of Jesus to remind our students daily how important it is to love and care for others first. It is our prayer that each student holds dear the simple message of JOY. We are truly blessed to have a Catholic School where we can teach such faith filled lessons.
Thank you for your continued support of St. Valentine School. On behalf of our students, faculty, and staff, I wish you a blessed Christmas and a very happy New Year!
Many Blessings,
Mrs. Rachel Damuth
Principal