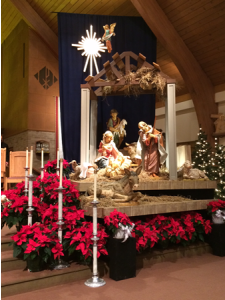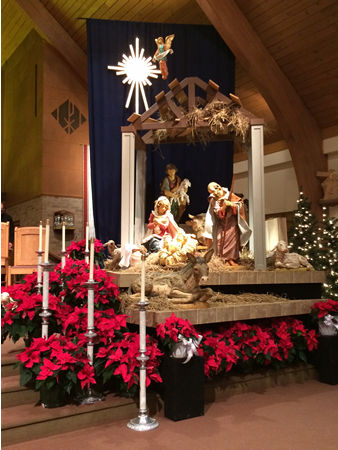 "For today in the city of David a savior has been born for you who is Christ and Lord." (Lk.2:11) With these words an angel of the Lord announced to the shepherds the good news of the arrival of the long awaited Messiah. Christmas is a time to reflect upon the great love of our heavenly Father and His great gift to all.  There is no greater gift that anyone could give than the gift of one's only child. The celebration of the birth of Jesus is therefore a celebration of the infinite love of our heavenly Father.
The materialism that accompanies Christmas can make it challenging to keep our families focused on remembering the 'reason for the season'. It takes forethought and planning to preserve the meaning of Christmas especially for our little ones. Here is just a thought of how you can keep the spirit of Christmas alive in your own family:
 · Read the birth narrative (Luke chapter 2) maybe before gathering to eat and thank God for giving Jesus, the greatest gift to us. Probably it is a good time to remind our little ones that gift giving is done to imitate what our Heavenly Father gave us on Christmas day. 
· Also as a family it is a good time to pause and recognize the special gifts God has brought to your family this year, and thank the Lord for the gift of each person in your life.
 On behalf of Fr. Henry and the staff our prayer for all of you, may God Bless you and your loved ones with a joyful grace-filled Christmas amidst family and friends. Merry Christmas and May the love of Jesus enable you to have a 2018 full of blessings.
---
Welcome
As Archbishop mentions in his letter "Unleash the Gospel" – "For evangelization to have its effect we must ensure that our communities extend a warm welcome to everyone who walks through the door."
 I would like to extend an open, grateful heart of welcome to all those who will be returning back to this parish even though you have not been here regularly – you have 2018 to look ahead and to make new decisions. 
 If you are a member of this parish, I hope to see you taking a more active role in the mission of the parish "sharing the Good News of Jesus Christ so that all may come to know God". 
 We also remember those who may be sick, lonely or bereaved and we pray for those who have died. May we share in the Peace and Joy of God's presence.
 Christmas Blessings to all,
Fr. Socorro Fernandes SAC.
---
 From the School Principal
Dear St. Valentine Parishioners,
"Stay Awake! Be Ready! You do not know the hour when the Lord is coming" are the words to an advent song we sing each week when we light the school advent wreath. The children of St. Valentine School have prepared their hearts for Jesus by putting Jesus first and caring for others before ourselves. They have also learned about the hope that we have in Jesus. Students are working to see Jesus in each and every person they meet. In the spirit of giving and service our school children, together with the faith formation children, participated in "elf day" by giving a small monetary donation of $369.25 to help families in our community. Our 8th grade National Junior Honor Society members held a pajama drive for Redford Interfaith Relief collecting 63 pairs of pajamas for families in need.
 Our third and fourth grade students have also worked together to present the Nativity which was presented on our last school day before break and will be presented at the 4:00 Christmas Eve Mass together with the faith formation students and the voices of our St. Valentine Children's Choir. We have celebrated the Sacrament of Reconciliation in grades 3-8 and are so excited for Christmas!
 Our Christmas concert on December 19th was a huge success- the children's voices and our young band students playing holiday music has really put us all in the holiday spirit. An annual favorite is over 100 students on the stage together singing "Silent Night". It is a beautiful sight and is a perfect example of the blessing of a Catholic School, a place where Christ is not only the reason for the season but is the focus of our school.
We are keeping St. Valentine parish in our prayers and request that you keep our parish school in your prayers. All of the faculty, staff, and students at St. Valentine School extend to you our warmest wishes for a wonderful, blessed Christmas and a very Happy New Year.
Mrs. Rachel Damuth, Principal
Our school website is: www.stvalentineschool.com