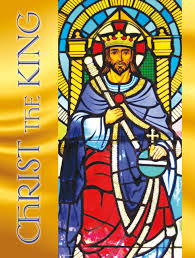 This weekend, in every nation on earth, the Church rejoices that in Jesus Christ and by his victory over sin and death the Kingdom of God has come among us: a kingdom of truth and life, a kingdom of holiness and grace, a kingdom of justice, love and peace. This Feast of Christ the King, ushers us into the 'New Year' beginning with the First Sunday of Advent on December 1st. It is time to be purple (or violet) for a while. We are all aware that Advent is a season of preparation but unless we make sincere efforts to prepare for the coming of Christ it will just be another busy season. See how you can strengthen your dedication to the Lord and his Church.
So, how to do this?
1) Try to get to Church every weekend of Advent and participate in the Advent liturgy. You can even get an Advent wreath and light it at home and pray together as a family.
2) Come to Mass on weekdays as often as possible during Advent.
3) If you have not yet started probably this could be a good time to start praying together as a family.  
4) Look for a family who would appreciate your help during Christmas season or volunteer to serve someone in need.
5) Go to Confession so that your Christmas Communion will truly be holy. For the communities of St. Valentine and Our Lady of Loretto a special penance service will be on December 11, at 7.00 pm in Church.
These are just some of the suggestions; of course you can find many other things to do that can make your Advent and Christmas more meaningful. Let us hold one another in our prayers and I wish you all many blessings as we enter the new liturgical year.
May Jesus Christ Our Lord and King continue to rule our hearts and minds always.
Prayers for a Blessed Advent Season.
Fr. Socorro
---
   Happy Thanksgiving to everyone!
This Thursday as we celebrate this great holiday first of all we need to pause and give thanks to God for the many gifts and blessings that have been bestowed upon us. For many of us, Thanksgiving Day is so full of activity that there is a tendency to forget what's at the heart of Thanksgiving.  When we give thanks to God, our sole motive should be pure gratitude.  Thanking God for His blessings toward us and appreciating His blessings in our lives. God has surely blessed us far beyond our needs even to our wants.    Let's be content with whatever He has given us to the point of being truly thankful by putting Him first in our lives.
 Secondly, it's also a wonderful time to thank those around us for all the love that is shared and all that they do for us, making our lives so rich and full! So I take this opportunity to thank each one of you who have helped me in my ministry. Sometimes just being present in the Church or continuing to be a member of the parish is a great encouragement and support. So THANK YOU for that.
 Lastly attending Mass on Thanksgiving Day is an excellent way to enrich that holiday. We need to come together as a community of faith and give praise and glory to God. Our Mass is at 8.30 am.
 My prayers and blessing on you and your families this Thanksgiving Day and always.     
Once again, Happy Thanksgiving to everyone!
 Fr. Socorro