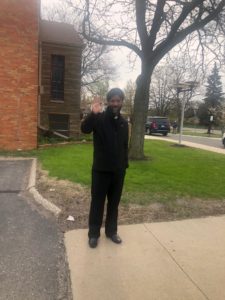 I want to thank Fr. Kishore for his assistance and for his ministry with us for the past two years. We were privileged to have him at least for two years.  His presence helped me in various ways, although being a pastor for two parishes I did not have to worry about too many things. He took care of most of the things including the Sacraments at St. Valentine. Being the Director of Religious Education program at St. Valentine he truly took his responsibilities seriously and did whatever was entrusted to his care. He met with parents whose children were preparing to receive the Sacraments, he met with children of those receiving Sacraments, and helped with the confessions at the School and the Religious Ed Students.
With his presence with us I could enjoy my vacation without worrying about both the parishes knowing for sure that things will be taken care of, and he did. He did so many baptisms, visited the sick, helped me with taking care of funerals, helped with the Sacrament of Penance and the list could go on. Knowing of the things that he has done here I am confident that he will be able to handle his big responsibility as Administrator of St. Michael the Archangel Parish and later on as its pastor. He is going to Monroe  with rich experiences of ministering in three different parishes. Let us assist him with our prayers.
On behalf of St. Valentine Parish I want to thank you Fr. Kishore for your presence amidst us and for all the help you gave me in my ministry.
I was blessed to have the assistance of both Fr. Henry and Fr. Kishore for 7 years. And now the real fun begins, if I think of all the things that I have to do by looking at the whole year it could be overwhelming so I will just take one day at a time and help minister to people of both the parishes as best as I can. I will need your help through prayers.
---
 

CSA 2020: Theme: "Rise, Be Not Afraid"
 CSA SUNDAY AT PARISHES – the weekend of September 12/13 Weekend after Labor Day.
 This year the Archdiocese is going to handle all the mailings so you should  be receiving your CSA letters during the fourth week of August. The CSA goal has been reduced by 15% of its original goal, so the goal for St. Valentine is $39,100.00 
  With all that said what is also important is that you take care of yourself. So continue following the rules that we are all called to follow, social distancing, wearing masks, staying healthy. Let's continue holding one another in our prayers.
Blessings on all,
Fr. Socorro
---
It is Hard to Say Good-bye
We really DO NOT want to see Father Kishore leave. And, we wish to let him know how much we care and will miss him! So, please join us on Sunday, July 26th after the 9:00 a.m. Mass in front of St. Valentine to say good-bye and enjoy a DONUT with him.       
---
Wanted: Football Heroes
St. Michael in Livonia is calling all 3rd  – 8th grade student athletes from surrounding parishes. To register for the Fall 2020 season follow this link:
https://church.livoniastmichael.org/apps/form/Sports-Registration-Fall2020
Registration is open from July 1 to July 31. We offer 3 football teams:
Freshman (Grades 3-4) Head Coach: Steve Goward
Junior Varsity (Grades 5-6) Head Coach: Brandon McCormick
Varsity (Grades 7-8) Head Coach: Mark Pelton
In order to proceed with having a team, a minimum roster size is required by  the July 31 deadline.
For questions, contact Bob Rowland, A.D. at 313-598-5350 or email