On November 15th, 2012, I landed on American soil and St. Valentine Parish welcomed me that night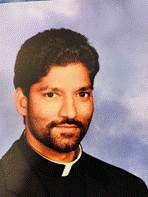 (Thanks to Fr. Suresh for his willingness to accommodate me) and I remember very well that first night I spent here at St. Valentine. I was invited to the Entrée with Padre dinner with men of the parish. It was an enjoyable evening with foods I had never eaten before! I stayed at St. Valentine until June 2013. Ever since, St. Valentine Parish has been a home away from home for me. I will always feel at home here at St. Valentine. My initial stay here with you was a great learning experience. You were amazing and very welcoming. When I received a call from the Archdiocese to move to St. Valentine, I was so happy to come here and spread the love of God.
It has been a wonderful experience to be with you, learning and growing in the Lord. These few lines of mine come to you in a special way to express my heart felt gratitude and thanks for all that you have been to me, during my stay here. What a blessing and honor to minister here at this amazing parish. I am so grateful to Fr. Socorro for accepting me to do my ministry here at St. Valentine. It is great to be with you. As you know, Fr. Socorro is a great shepherd. I have learned many great things from his way of leading a parish. You are an awesome priest. You are humble, simple, and down to earth. Your way of keeping in touch with parishioners and your availability to them is inspiring.  I thank you for the freedom, support, encouragement, love, and concern. I always felt at home with you. My two years of stay with you gathered a lot of experiences for my ministry. I am grateful for your generosity of time and sharing of your experiences. 
Special thanks to Sue Daly and Bonnie Danic for your friendly atmosphere. Thanks for understanding me and supporting me in learning things here. You are an amazing staff and I am humbled to work with you all. You are spirited, efficient, capable, people oriented, and friendly nature is greatly appreciated. I felt at home and had good company with you all. Thanks a lot for encouraging and supporting me in my priestly ministry.
My sincere gratitude to Bonnie for your great help to me especially running the Faith Formation program. Thanks to all the teachers and volunteers in Faith Formation for your generosity of time and talent.  
Dear parishioners, it is great to know you. I am blessed and honored to be with you at St. Valentine. It has always been my joy and happiness to celebrate mass with all of you. You are all amazing and faithful, loving and caring. I am sure; I am enriched by being here with you. Your openness, community spirit, simplicity and generosity are exemplary. Thank you so much for making it possible for me. Forgive me for my long homilies and my crazy English accent. St. Valentine Parish remains always a home away from home. You are affectionate, open, and hospitable.
And finally, but not least, I had a fabulous time with the children at our school. I greatly appreciate Principal, Rachel Damuth and all the staff. I will miss seeing the children's smiles and energy. Thanks a lot for everything. I will be ministering at St. Michael the Archangel Parish in Monroe. Kindly continue to pray for me that the Holy Spirit may guide me in my new ministry. I will miss St. Valentine Parish. You are amazing. I assure you my prayers. God bless you all.
My new address:
Fr. Kishore Babu Battu SAC
St. Michael The Archangel Parish
502 W Front,
Monroe, MI 48161
 With love and prayers,
Fr. Kishore Babu Battu SAC
---
Change in Mass Times & Confession Times
At St. Valentine beginning Saturday, August 1st Mass will change from 5 pm to 5:30 pm. On Sunday, August 2nd Mass times will be changed to 8:30 am and 12 noon. Daily Mass at St. Valentine will be on Thursday and Friday's at 8:30 am in the Church.
At this time confessions will be held ONLY at OLL on Saturday from 3:15 pm—3:45 pm.
At OLL Mass times on Saturday will be at 4 pm and Sunday Mass at 10 am. Daily Mass will be on Monday and Tuesday's at 8:30 am.