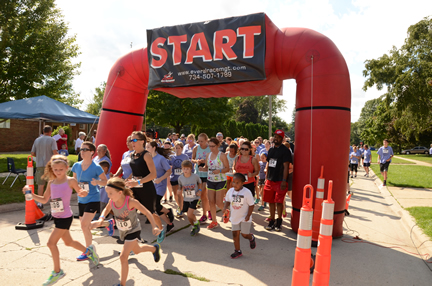 Please join us for our 15th* Annual St. Valentine Fun Run/Walk on Sunday, September 19, 2021. The races will begin at 2:30 PM followed by an exceptionally good spaghetti dinner at 4:00 PM. The route will wind its way through the neighboring community with the start and finish being at the St. Valentine Gym.  Race/Dinner registration forms will be available here on the Parish Web page and as inserts in the parish bulletin.
We are also in need of volunteers to help with a variety of tasks connected to the Fun Run and the spaghetti dinner.  Please download the Volunteer Flyer and call one of the contact people listed  to help!
Hope you can join us for this great opportunity to share in fellowships and friendships with other parishioners and neighbors from our family community. We thank you for your support and we look forward to seeing you at the finish line.
St. Valentine Race Committee.