Religious Education for School-Aged Children
It's time to register for the upcoming Faith Formation Program there are registration forms in the back of church.
For more information call Bonnie at the parish office at 313-532-4394 x101.
NOTE: If Redford Union and South Redford schools are closed because of inclement weather, Faith Formation classes will be closed that evening.

---
Our theme for this year's Vacation Bible School was "What Did Jesus Do?". It wasn't just our theme, but the question that took us on an inspiring journey into our faith. We did our best to answer this question, as well as ask ourselves, knowing what Jesus did…what will we do now?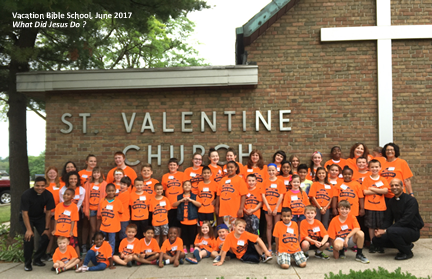 We learned about the life of Jesus. We learned about Jesus the baby and child, Jesus the Teacher, Jesus the Healer, Jesus the Martyr, and Jesus' Resurrection. We reviewed prayers, like the Hail Mary, the Lord's Prayer, the Two Great Commandments, the Act of Contrition, the Lamb of God, and the Glory Be. We made crafts, performed experiments, and played games that reinforced the teachings and miracles of Jesus. We focused on Jesus' calling to us to live a life that is prayerful, truthful, sincere, hopeful, charitable, compassionate, filled with sharing the Good News with others, and trusting in the one true God.
Living a life like Jesus, and making good choices like Jesus is our ultimate goal…living a life worthy of God's desires for us, so that we may live in life everlasting with Him!  The children we were blessed to teach this week are sincerely ready and willing to follow in Jesus' footsteps. They are perfectly filled with God's love, and so prepared to share His faith, hope, and love!  
 This week has left an inspiring effect on the students, the helpers, and Joan and I. We are changed for the better, and filled with renewed hope and faith.  
 In Faith and Friendship,
Amy Davis and Joan Ricotta
---
Faith Formation Calendar 2018-19
Informational letter for those receiving the Sacrament of Confirmation in 2017/2018 School Year
Faith Formation Classes for those in grades 1-8 meet on Mondays from 6:45 – 8:00 p.m.

Please contact Fr. Henry Rebello, Coordinator of Faith Formation  313-532-4394 x102
or
Bonnie Danic, Faith Formation Secretary (313-532-4394 ext. 101) for additional information.

---
Baptism
Baptisms are held on the 4th. Sunday of each month. Parents must attend one informational meeting prior to this time. Please call the parish office to make arrangements.
---

Reconciliation
Confessions are heard on Saturday afternoons at 3:30 p.m.
---

Marriage

Arrangements for marriage must be made at least six months in advance. Please call the parish office for more information.
---
Catechumenate

Instruction in the Catholic faith and preparation for entering the Catholic Church is offered on Monday evenings at 7:00 p.m. Please contact Fr. Henry at 313.532.4394 to make arrangements.