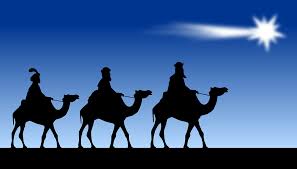 This Sunday marks the solemnity of the Epiphany. In some cultures this is referred to as "little Christmas". On this day what we celebrate is what we celebrated on Christmas which is the manifestation of God's love, Jesus Christ, being physically present in our world. His birth presents humanity with a new sense of hope. The prophet Isaiah wrote: "Rise up in splendor, Jerusalem! Your Light has come, the glory of the Lord shines upon you." The light that shines, Jesus Christ, is the hope for humanity. It is this light, Jesus Christ, in which God will provide, as Isaiah wrote, a light that will guide nations to a universal response to God, when all peoples and all nations will come together to live in faith and mutual respect.
 This hope expressed by Isaiah to become a reality we are invited to imitate the magi, let us give our love, fidelity, perseverance and sincerity to Jesus. Let us offer Him our prayers and our human weaknesses too. But specifically, like the magi and according to Bishop Socrates Villegas in his, Love Like Jesus, let us have the three S of this Feast of Epiphany. The first S is, to See. The wise men saw the star and they followed. God tells us not to see with our physical eyes but to see with our hearts because God is in our hearts, His favorite place within us.
The second S is Search. The wise men were searching for Christ. They wanted to find the meaning of life and they found it in Christ and in living for others. God wants us to live an exciting life and not just be satisfied with the monotony and the boredom of life. The last S is Submit or to obey. The wise men did this once they found Jesus and offered to Him the best of everything. Let us submit to His will and authority because His will and authority are the best for us.
Let us see, search and submit and surely we will find what we have been looking for all these years.
---
Happy New Year to All
   I hope everyone had a wonderful New Year celebration on December 31 and January 1. I pray that the Lord will bless us all with a faith-enriched, peaceful and prosperous New Year 2018. Though the gift of peace seems far away we continue to pray for peace in our families, communities, our nation, and for greater peace throughout the world.
In Christ,
Fr. Henry Rebello SAC