This week's Vacation Bible School theme was "Superheroes of Faith".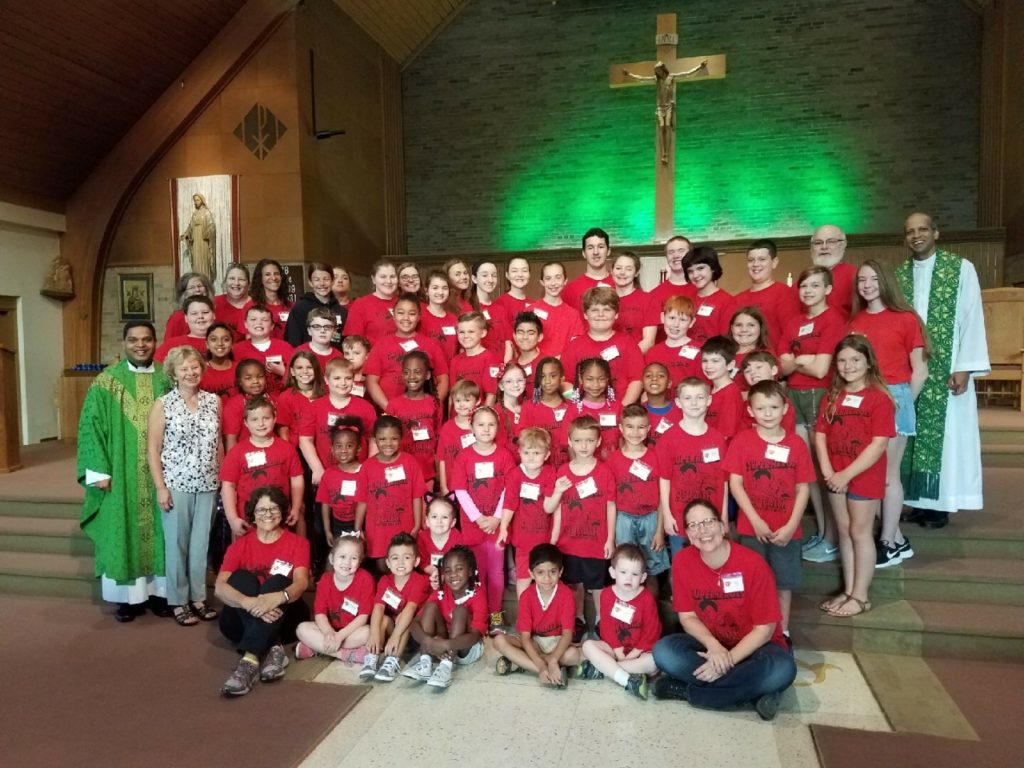 We  learned about five very important heroes of our faith, as well as their superpowers: Daniel…Power of Prayer; Noah…Obedience; Ruth and Naomi…Loyalty; David…Courage; and Jesus…Love.
· We learned ways that we can share in these superpowers by living as God so desires, through Corporal Works of Mercy, the Fruits of the Spirit, the Seven Holy Sacraments, the Parts of Mass, and the Beatitudes.
· We made shields that were added to our superhero capes…to give us the confidence to know that God is always with us, and that we, too, can be superheroes of our faith.
· We kept a prayer journal to remember our heroes.   We can continue to discover strengths of our own and those of others, and add them to our journal.
· We made a prayer box and other crafts to be reminders of our time together.
· We learned a song, "Jesus is My Superhero".
· We witnessed experiments that made the ordinary quite extraordinary.
Joan and I were blessed with 48 registered students and 21 volunteers! Words cannot express the thanks we have in our hearts for such an amazing week of faith! Our thanks would not be complete without thanking those who helped guide us through our program: Bonnie Danic, Fr. Henry, and Fr. Socorro.
The most amazing part of this week was discovering the superheroes within each and every one of our students this week. We didn't have to look very far to discover their powers of love, friendship, and devotion to God. They wrote a prayer together that was said each day. The words are proof of their powers…
Children's Prayer
Our Lord is our hero.
Jesus is our hero.
Our hero is brave,
He doesn't give up.
He loves us.
He saves people.
He is strong and generous.
He protects us and keeps us safe.
He saves us.
He fights for us.
He is smart.
Thank you for being our superhero, Jesus.
Amen.
Written by the students of the St. Valentine Vacation Bible School Program 2018 
God is good all the time…all the time, God is good!
With Thanks and Praise,
Amy Davis and Joan Ricotta