Dear parish members, wishing you every blessing this festive season! 
"A child is born for us; a Son is given to us" (Is 9:5). What Isaiah prophesied as he gazed into the future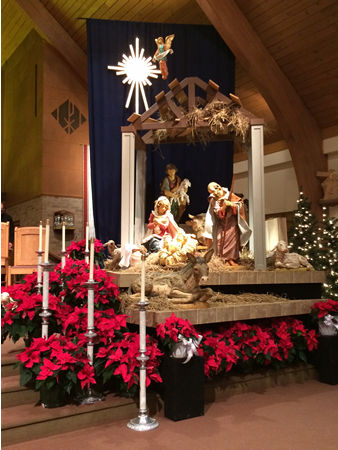 from afar, is now proclaimed to the shepherds as a present reality by the Angel: "To you is born this day in the city of David a Savior, who is Christ the Lord" (Lk 2:11). The Lord is here. From this moment, God is truly "God with us". No longer is he the distant God. He has entered the world. He is close to us… "For you the Savior is born".
The celebration of the birth of Jesus is therefore a celebration of the infinite love of our heavenly Father and we need to thank God for that great gift given to each one of us so freely.  As we remember and celebrate this gift, we need to realize that only Christ can bring us the love, peace, joy and happiness which we all seek. We need to come to Him as often as we can and be filled with those graces and blessings, He longs to bestow on us. As I wish you happiness during this season, I pray that the gifts of love, joy and peace brought by Jesus may overflow into the New Year for each one of you.  
The Mother of Jesus is our mother, if we intercede to her she will definitely assist us on this journey of experiencing her Son's blessings, and she will help us to bear witness in our world to His truth, His love and His peace.
On behalf of Fr. Kishore and our parish staff I pray that our loving Lord bless you and your loved ones with a joyful grace-filled Christmas. And may the gift of God's love come alive in your heart in the New Year 2020 and bring you many occasions for rejoicing. Keeping our eyes fixed on Jesus and allowing Him to lead us, will definitely help us to have a new 2020 vision, a better vision.
A Merry and blessed Christmas!
Fr. Socorro Fernandes
---
Welcome! Welcome! Welcome!
A warm welcome to all those who will be returning back to this parish even though you have not been here regularly – you have 2020 to look ahead and to make new decisions. All we can say is Welcome Home. If you are a member of this parish, I hope to see you taking a more active part in various ministries, in commissions and committees that we have. I am sure you will find something that will stir your interest if you are really looking forward to actively taking part. We remember those family members who are still far from home and unable to be with their loved ones.
We hold in our prayers those who may be sick, lonely or bereaved. May the Peace and Joy of God's presence surround you and bless you with Grace. 
---
From the Principal
Dear St. Valentine Parish,
The faculty, staff, and students of St. Valentine School wish you all the blessings of the season. Our school year theme is "Be Still and Know that I am God". Our teachers and students are focusing on our relationship with our Lord and relationships with each other. During the Advent season our students from kindergarten through grade 8 all have had the opportunity to spend time growing closer to God during their daily reflections, during our weekly Advent wreath lighting prayer service, and during their mini- retreats. Our teachers do a wonderful job offering a prayerful and age appropriate retreat for each grade level. St. Valentine School has been working to prepare the path to our hearts for Jesus.
 In a favorite Christmas song "O Holy Night" there is a line that states "the thrill of hope, the weary world rejoices".  We are indeed a weary world as we look around and see division among people, poverty, violence, and so much intolerance and hatred in our own country and around the world. It often seems that our world is again in darkness as it was at the time of Christ's birth. St. Valentine Church and School communities shine forth as a beacon of Christ's light for a "weary world". I count myself very blessed to be a part of a community of faith that supports a Catholic School. Our children need faith and the values the Gospel teaches to be able to go out and continue to shine with Christ's light. Thank you, St. Valentine parish, for your continuing support of our faith-based school.  Your prayers, support and generosity help us to carry out our mission of a school based on values that are rooted in Catholic teachings, academic excellence, love and respect for all, and allows us to provide a community of faith for our young learners making us a strong community in Christ. Thank you for being a part of our mission. Merry Christmas!
Mrs. Damuth