Dear St. Valentine Parishioners,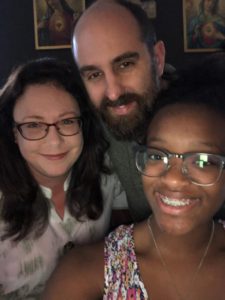 Four years ago, following what I believed to be a call from the Lord, I applied to enter into formation to become a deacon in the Catholic Church. I figured if it was indeed God's will for me then all the doors would open leading to my ordination and if I was mistaken about the call, then He would lead me away from that path into another way of living out my Catholic faith.  Either way I knew, as we all do, that we are made to love and serve God and our neighbor in Him. The journey, in my case, has indeed led me to ordination and my heart rejoices that I found the way from which I am called to understand God's movement in my soul. From here I will learn, by grace, to live it out from this new perspective. I pray Our Lord will help me to live it well. I pray that Jesus will help us all to live the call He has placed on our lives well … especially right now, when the world so desperately needs bold, authentic witnesses to the saving power of Jesus Christ.  What a crazy year this has been for us all!! Still so strange and challenging but I'm so grateful to be alive right here and right now! Right now when humanity has seen how fragile life truly is despite all that we think we know … we see how little comfort and calm can be offered by the material things of the world … and we can see all too clearly right now that our salvation is not to be found in politics and politicians. Right now is an important moment for the Universal Church and, in a special way, for the Archdiocese of Detroit as we begin to work together, in a more united, interconnected, and familial way than ever before to Unleash the Gospel of Jesus Christ … Right here, right now what the world is really hungry for is Jesus! And we are ALL called to introduce everyone we know to Him.  I want to thank the people of St. Valentine Parish for all your prayers which truly inspired me to come to know Jesus more deeply and to follow His call on my life.  I will always pray for you and your call as individuals and as a parish.  I think it  is amazing that three deacons have come from among this parish within the past couple decades!  God clearly hears the prayers for vocations that are being offered here and so I beg you to keep it up! The great early 20th Century English writer G.K. Chesterton once said, "Gratitude is happiness doubled by wonder."  And so I say, thank you again … for by you, my fellow disciples in Christ Jesus at St. Valentine, my happiness is indeed doubled by wonder. 
God bless you always, 
Deacon Bob  
Deacon Bob,
The parishioners of St. Valentine Parish and I congratulate you and your family upon your ordination on Saturday, October 17th at the Cathedral of the Most Blessed Sacrament. May God continue to bless all of you.
Fr. Socorro