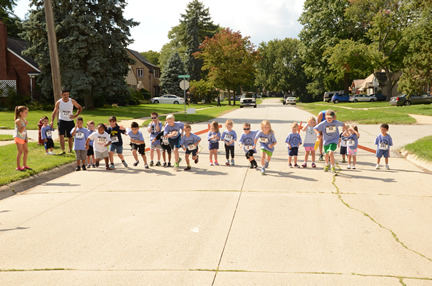 Runners/Walkers Packet Pick Up continues today, Sunday,
from 10:00 a.m.
—
2:00
p.m. in the School Meeting Room.
The Mini Volt Run begins at 2:30 p.m., the National Anthem at
2:55 p.m., the Fun Run/Walk at 3:00 p.m. and the Spaghetti
Dinner at 4:00 p.m. Awards and raffle prizes will be presented
after the dinner. We hope you are coming!
If you are interested in running/walking and have not registered, please register in the
school meeting room by 2:30 pm at the latest.
If you would like to join us for dinner, you may enter the Hope Street door and see the
cashier.


Bake Sale
Our 7th and 8th graders are sponsoring a bake sale at the Fun Run dinner. If you would like to donate a baked good, they would appreciate it! The monies raised will help with their graduation expenses. You may drop off your goodies at the Gym on Sunday morning. Please See Mary Ann Betzler for more information.


---
75th Anniversary Mass Celebration –
September 24, 2022

Please join us! Next Saturday, September 24th, our parish will be celebrating its 75th Anniversary with a Mass at 4 p.m. celebrated by Archbishop Allen Vigneron! In addition to the Archbishop we will also have other priests in attendance concelebrating with Father Socorro.

This Mass will be the highlight of many months of planning by the 75th Anniversary Committee. Please join us for Mass and for the celebration taking place in the School Gym following Mass. Keep in mind you will need a ticket to attend the dinner and the festivities in the School Gym. Tickets may be purchased on the porch after all Masses or at the Parish Office.