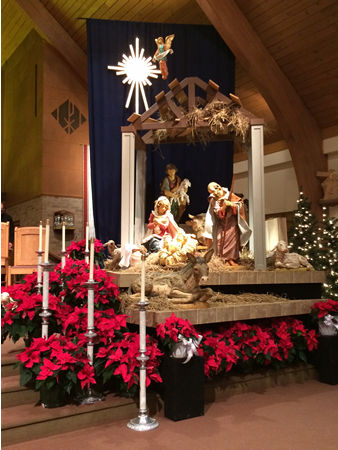 This weekend the Sunday within the Octave of Christmas, we celebrate the Feast of the Holy Family of Jesus, Mary and Joseph. This feast reminds us especially of the role of the Blessed Mother and Saint Joseph in God's plan of salvation for us. These principal figures, the Holy Family, continue to inspire us and guide us in their faithfulness to the will of God and their loving fidelity to our New Born Savior. Let us ask the Holy Family to pray for all families, especially those most in need.
Here's a beautiful prayer I found which can be said as a family on this feast day.
 Good and Gracious God, from the very beginning of time you made man and woman to live in loving relationship with you and one another. The family, created to be a reflection of your fruitful love, is meant to continue your mission of love in the world. Be with us today as we reflect on the Holy Family of Jesus, Mary, and Joseph, who are models of faith for each of us. Help our families to be holy, even in the midst of struggles and challenges, knowing wherever two or three are gathered in your name, you are present. We ask this through Christ, our Lord. Amen.
---
Happy New Year!
January 1st, The New Year begins with the observation of the Holy Day of Obligation of Mary, the Holy Mother of God. This Holy Day brings to a close the eight day celebration of the Nativity of the Lord. On this eighth day the focus is on Mary, the Mother of the divine Savior. As we continue to celebrate Christmas, let us ask the Blessed Virgin, the Mother of Jesus and the Mother of all us, to pray for us that we may be increasingly more grateful for the salvation and redemption of her Son and to be faithful to His Gospel way of life. And May Mother Mary assist us to be joyful messengers of the Good news.
    Being a Holy Day of Obligation we have the Vigil Mass on December 31st at 5.00 pm and on January 1st at 9.00 am.
 On behalf of Fr. Kishore I wish you a Happy and Holy New Year. May the New Year find us all receiving the graces offered by God and may we be open to almighty God's blessings and graces upon us; may our troubles be few; our challenges not overcome us; and our joy increase throughout 2019.
---
Vacation Time
Fr. Kishore will be going home for vacation and he will be leaving on January 11th to be back on February 11th. We wish him a safe journey and a relaxing time with his loved ones.  So with him gone we will have changes in our weekday Mass schedule as we have done it for the past several years. Monday's and Tuesday's 8.30 am Mass will be celebrated at Our Lady of Loretto Church and Thursday's and Friday's Mass at 8.30 will be at St. Valentine. This schedule will begin on Monday, January 14th and end on Wednesday February 13th, 2019.
Just want to let you know specially to those who are new to this schedule that Thursday's Mass will be in the school chapel and Friday's Mass will be in the Church on School days as it will be Mass with the school kids. Thanks for adjusting to these changes.
---
A special thanks:
At this time of the year along with Fr. Kishore we would like to thank everyone who has treated us so kindly with love, greetings, gifts, prayers and blessings. We also extend our thanks to all those who have contributed to make our Advent and Christmas liturgies so meaningful.
The simple beauty of our parish celebrations comes together because of the rich personal gifts, talents and dedication of many in our parish, including decorators, Musicians and Choir Members, Ushers and Altar Servers, Lectors, Eucharistic Ministers, and Sacristans. Thanks to the parents for encouraging their children to take part in the Nativity Play and the Children's Choir. We are always so appreciative of the all those who attend our celebrations and make it so lively by active participation. Sincere thanks to all who have so generously contributed towards our 2018 Christmas offertory collection. May God bless each and every one of you, and may Christ's peace reign in your hearts and in your homes.
God Bless you,
Fr. Socorro