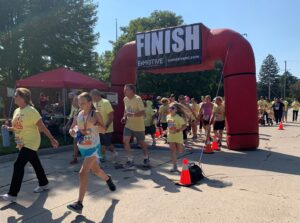 Walkers, Runners & Volunteers Needed!
For all those trying for a personal best time on their 5K Run—the date is set…September 18th!
Volunteers Needed! As always, we need a lot of volunteers to help make this day run smoothly. We always need you ….
Young or the Young at Heart all are needed!
Spaghetti Dinner : If you are interested in attending the dinner only, we would appreciate it if you please submit a registration form.
However, walk–ins will be welcome.
Honor Guard Needed: We are looking for active servicemen and women who are serving in the armed forces, reserves or any veterans to participate in the Honor Guard at the
Fun Run. Please call Ron Fron at 313– 815–8840 to participate.
Bake Sale:  Our 8th graders are sponsoring a bake sale at the Fun Run dinner. If you would like to donate a baked good, they would appreciate it! The monies raised will help with their graduation expenses. You may drop off your goodies at the Gym on Saturday or Sunday morning.
Thank you,
Jim Soter & Bonnie Danic
Co Chair