The Council is a consultative body to the Pastor and supports the growth and development of the parish as a community of faith. The Parish Pastoral Council coordinates and assists in bringing together our union and mission in the areas of Christian Service, Education, Stewardship and Worship.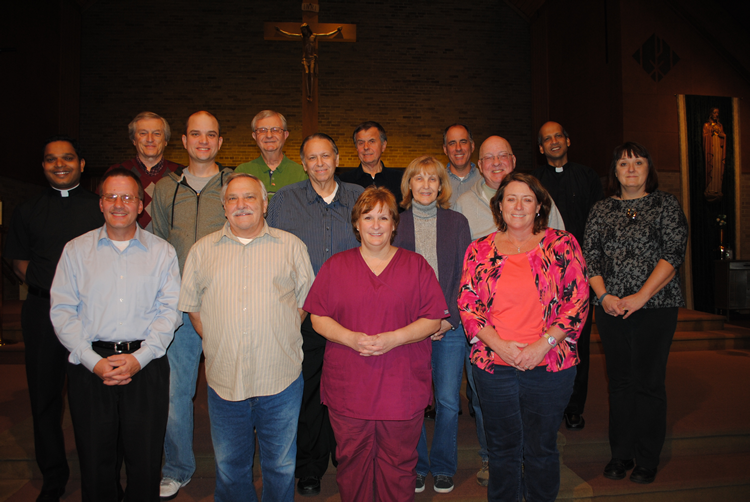 Current Members of the Council:
Ron Fron – Chairperson
Lisa Alexander – Vice Chairperson
Jeff Kramer – Secretary
Anthony Janisse
Frank Zbikowski
Tom Alexander
Wendy Wagner
If you are interested in more information regarding the Parish Pastoral Council,
or would like to serve on the Council or one of its Commissions, please contact the Rectory.
---
Council Commissions:
The purpose of each Commission is to assess needs, develop objectives and implement programs through committee work. Listed below are the four Commissions and the committees which report to them.
• Education
Education Commission helps all parishioners understand that the entire Parish fellowship has the responsibility of promoting the teachings of the Church. The commission has the responsibility of developing, promoting and evaluating programs to enrich and enhance the faith life of all parishioners.
• Christian Service – Rosemary Fox, Representative 
Christian Service empowers the members of the parish to fulfill the Church's mission of love, justice, freedom and peace by commonly responding, in an organized way, to societal and individual needs whether locally or in the broader community.

• Stewardship – Bob Zimmerman, Representative
Plans, implements actions and recommends the effective management use of Parish resources, and Church support. Resources include parishioners' time, skills and talents.

• Worship – Mike Nowak, Representative
Promotes and strengthens the program of continuing liturgical renewal. Serving the parish in the areas of liturgy and ecumenism, the Worship Commission promotes and provides for programs of education, planning and evaluation. It is also involved with liturgical celebrations.

• School Advisory Committee – Rachel Damuth, Representative
Serves as a liaison with St. Valentine School.
• Finance Council – Joe Kelly, Representative
The Finance Council assists the pastor in the proper administration of the finances and material assets of the parish, especially in regard to any strategic planning brought forth by the Pastoral Council.